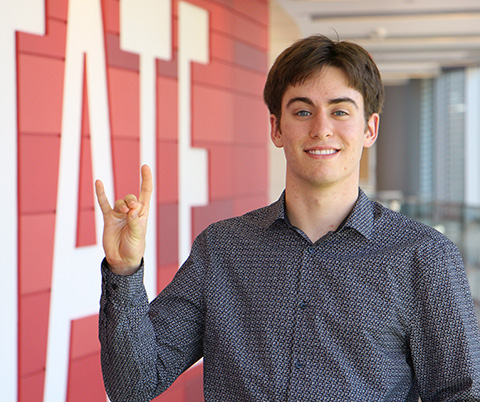 Drew Marshburn
Hometown:
Cedar Point, NC
High School:
North Carolina School of Science and Mathematics Online
Activities:
Piano, Undergraduate Research, Rock Climbing, Ballroom Dance, Cycling, Triathlon
Awards & Honors:
Goldwater Scholar Honorable Mention, Arts NC State Performing Artist Award, University Scholar's Program, Dean's List
Anticipated Graduation Date:
May 2019
What I plan to do after graduation:
I am considering a PhD in chemistry or computer science with a focus in data sciences. I would ultimately like to develop computational chemistry software.
Why I Love Computer Science:
I took computational science classes for the first time as a junior in high school and was intrigued by the combination of the sciences and computers. After completing several class projects, I decided that I was not as interested in the scientific applications as I was in making computers do my homework. My laziness prompted me to come to NCSU to find more efficient ways to avoid working, and I have since been trying in vain to make my laptop do research for me. Computer science is a super power that can give you the ability to excel in any field of interest, and the flexibility and prevalence of computers make CSC a very rewarding degree.
Email Drew