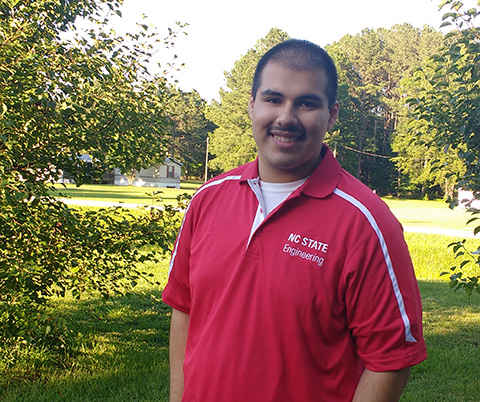 Bryan Gonzalez
Hometown:
Rocky Mount, NC
High School:
North Edgecombe High School
Activities:
Society of Hispanic Professional Engineers, Mi Familia, University Scholars Program, Former Exploratory Studies Student Council Executive Board Member
Awards & Honors:
Goodwin Meissner Scholarship Recipient, State Employee's Credit Union Scholarship Recipient, Multicultural Student Affairs Freshman Honors Convocation, Dean's List, Community Involvement Award by Exploratory Studies, North Edgecombe High School Valedictorian
Anticipated Graduation Date:
May 2019
What I plan to do after graduation:
I plan to work in a variety of fields ranging from data analytics to cyber security.
Why I Love Computer Science:
I've always had a passion for math and realized that computer science and math were related for the fact that I was able to make a computer do math. Ever since I learned my very first coding language, which was HTML and noticed that I could create some neat webpages with this. I decided to learn some more languages like Assembly and made myself do some basic arithmetic with it and it appeared that sometimes the answer wasn't correct. The concept of debugging was introduced to me as a puzzle trying to figure out why my program wasn't working, but once I do figure it out it's one of the best feelings in the world, and ever since then I loved computer science because of that great feeling of joy.
Email Bryan