Computer Science eNewsletter
Below is department related news, gathered from a variety of sources across campus, provided monthly for alumni, students, and friends of the Department of Computer Science at NC State University.
If you are a CSC alum and wish to be added to the email distribution list, click here. Corporate or individual friends of the department may be added to our distribution list by sending an email request to Ken Tate, Director of Development & External Relations for the NCSU Department of Computer Science.

---
September 30, 2009
Keith & Margaret Collins Make Transformational Gift Plans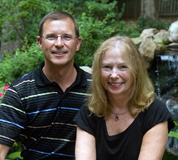 Computer Science alumnus Keith Collins (B.S. '82), and his wife Margaret (B.S. Horticulture '79) have recently finalized gift plans with an estimated value in excess of $2.5 million that will benefit faculty and students in both the College of Engineering and the College of Agricultural and Life Sciences. When fully in place, the gift plans will establish several named endowments to benefit the NC State Department of Computer Science, including the Collins Distinguished Professorship in Computer Science, the Collins Leadership and Computational Excellence Scholarship in Computer Science, and the Collins Computer Science Discretionary Fund. These are the largest planned gifts ever documented from an NC State computer science alumnus. more
How the Higher Ed Bond Changed NC State
NC State's 2,110-acre campus has undergone dramatic enhancements thanks to North Carolina voters, who approved the Higher Education Facilities Financing Act in 2000. more
Fidelity Investments "Leadership in Technology" Series Presents Theresa Payton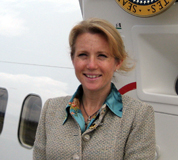 The department welcomes Theresa Payton, former White House CIO, on October 22nd as the next fall speaker in the Fidelity Investments "Leadership in Technology" Executive Speakers Series. Her talk topic will be "Do you want to be a cyber warrior?". The event is free and open to the public. more
New TV Spot Features Robo-Bats
NC State unveiled its new commercial during the NC State football season opener with South Carolina. Check out those robo-bats, but don't look at the hospital gown too closely. It's all part of NC State's ongoing "Red Means Go" campaign for world domination. more
Robison Receives Best Student Paper Award at ACII-2009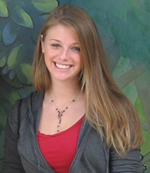 Jennifer Robison, a second year PhD student in the NC State University Department of Computer Science, has been recognized with the Best Student Paper Award at the International Conference on Affective Computing & Intelligent Interaction (ACII-2009) in Amsterdam. Her paper, "Evaluating the Consequences of Affective Feedback in Intelligent Tutoring Systems," which was co-authored with Scott McQuiggan, and professor of computer science, Dr. James Lester, investigates the link between affect, learning, and feedback. more
What Did You Learn to be in School Today?
Filling the pipeline with the next generation of chemists, engineers and rocket scientists isn't easy. New research at North Carolina State University hopes to drive U.S. students to careers in science, technology, engineering and mathematics, also known as STEM. here
Researchers Developing Way to Measure 'Collaborative Virtual Presence," Relationship to Performance
The National Science Foundation has awarded $203,549 to a multi-disciplinary team of researchers from the College of Management and College of Engineering at North Carolina State University and two colleges at Indiana University. The project focuses on the use of virtual worlds to support business processes, such as product development, involving team members often spread over corporate campuses, multiple time zones or even different continents. more
The Shape of Things to Come
A five-year plan to promote economic growth in the Research Triangle Region of North Carolina, create 100,000 jobs and boost employment in all 13 counties in the region. The plan identifies "Advanced Gaming and E-Learning" as one of three emerging cluster opportunities as a focus for economic development efforts, specifcally referencing the work of NC State's Digital Games Research Center. more
Allbritton named BME Department Head
Dr. Nancy Allbritton has been named the new head of the joint UNC-NC State Department of Biomedical Engineering, effective September 1, 2009. She is the first woman department head in the history of the College of Engineering at NC State. more
Departmental Research Grants, Gifts, and Support
Rudy Puryear (B.S. '74) has donated $1,000 to support the SAB Diversity in Computer Science Endowment.
First Citizens Bank has donated $2,500 in support of the department in sponsorship of the "Connected" Alumni Newsletter.
Alumnus, Jay Strickland, has made a $5,000 donation to support the continued growth of the Carol Miller Student Leadership Endowment to honor long-time lecturer Carol Miller who retired at the end of the 2008-09 academic year. Current pledges to the endowment total more than $37,000 and actual gifts collected exceed $18,000. more
SAS Institute, Fidelity Investments, and AT&T have renewed their Super ePartner status, donating $25,000 each in support of the department's Sr. Design Center and various programs and initiatives managed through the ePartners Program.
NetApp has contributed hardware, software and services valued in excess of $260,000 to the university to expand the Virtual Computing Lab (VCL) and build the next generation of cloud computing environments. more
Dr. R. Michael Young has been awarded $497,860 by the National Science Foundation (NSF) to support his research on narrative within games and virtual worlds. more
Drs. Xiaosong Ma (lead PI) and Xiaohui (Helen) Gu (co-PI) have been awarded $320,000 by the National Science Foundation (NSF) to support their research proposal titled "CSR: Small: Collaborative Research: Hybrid Opportunities for Green Clouds." more
Dr. Xuxian Jiang has been awarded $225,000 by the National Science Foundation (NSF) to support his collaborative research proposal titled "OpenVMI: A Software Infrastructure for Virtual Machine Introspection." more
Dr. Ting Yu has been awarded $234,334 by the National Science Foundation (NSF) to support his research proposal titled "Towards a Dynamic and Composable Model of Trust." more Yu was also awarded $29,960 by the NSF to support a series of workshops on "Security in Emerging Areas" at the 2009 ACM Conference on Computer and Communications Security. more
Dr. Kemafor Anyanwu-Ogan has been awarded $477,703 by the National Science Foundation (NSF) to support her research proposal titled "MOSAIC – Semantic Querying Techniques for Supporting Problem Solving Tasks on the Structured Web." more
Dr. Tao Xie has been awarded $249,880 by the National Science Foundation (NSF) to support his research proposal titled "Constraint-Based Generation of Database States for Testing Database Applications." more
Dr. Frank Mueller has been awarded $19,000 by the Oak Ridge National Labs – UT-Battelle LLC (ORNL) to support his research proposal titled "Data Streaming on GPU Clusters." more
CSC Faculty / Staff News
Dr. Robert E. Funderlic, former Department Head (1986-1992) and Professor Emeritus, lost a long and courageous fight with cancer on Sept. 5, 2009. The department mourns his loss and remembers his legacy. more
Dr. R. Michael Young, associate professor, has been named Research Director for 2009 for the Triangle Game Initiative (TGI). more
Carlos Benavente, IT Manager, has been selected as one of the recipients of the "Pride of the WolfPack" Awards for August 2009. more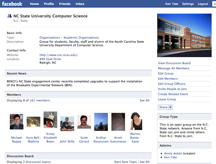 Department Pages on Facebook and LinkedIn
Alumni, students, faculty, staff, and corporate partners of the NC State Department of Computer Science, interested in networking to foster collaboration, entrepreneurship, partnerships, career development and professional growth are invited to join the department's pages on Facebook and LinkedIn.
CSC "Jobs List"
If you are a CSC student or alum and would like to receive an automatic email notice whenever new postings are activated on the CSC online jobs board, you are invited to subscribe to the cscjobs list. We may also use the list to announce career fairs, company campus visits & info sessions, and other career related events and activities. This is an "opt-in" list, so you must subscribe to receive the notices. Students can subscribe via the Subscribe Interface at http://lists.ncsu.edu/cgi-bin/mj_wwwusr (type cscjobs in the Mailing List box and press Search) or by sending an email to: mj2@lists.ncsu.edu (leave Subject Line blank), in the body of the message type subscribe cscjobs, and then send your message. For more information about subscribing please check http://lists.ncsu.edu/.