Computer Science eNewsletter
Below is department related news, gathered from a variety of sources across campus, provided monthly for alumni, students, and friends of the Department of Computer Science at NC State University.
If you are a CSC alum and wish to be added to the email distribution list, click here. Corporate or individual friends of the department may be added to our distribution list by sending an email request to Ken Tate, Director of Development & External Relations for the NCSU Department of Computer Science.

---
May 29, 2009
Williams Receives Inaugural ACM SIGSOFT Influential Educator Award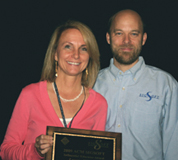 Dr. Laurie Williams, associate professor of computer science at NC State University, (shown with William Griswold, chair of ACM SIGSOFT) has been selected as the winner of the Association for Computing Machinery (ACM) 2009 SIGSOFT Influential Educator Award. This is the first year the award has been given. more
Bouterse Wins 2009 IBM PhD Fellowship Award
Brian Bouterse, computer science graduate student at NC State University, has been awarded a prestigious 2009 IBM Ph.D. Fellowship Award. Award recipients are selected based on their overall potential for research excellence, the degree to which their technical interests align with those of IBM, and their progress to-date, as evidenced by publications and endorsements from their faculty advisor and department head. more
New Tool Helps Researchers Identify DNA Patterns of Cancer, Genetic Disorders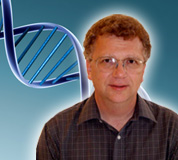 A new tool developed by NC State computer science graduate student, David Cox, will help researchers identify the minute changes in DNA patterns that lead to cancer, Huntington's disease and a host of other genetic disorders. more
Doucette Unanimously Elected to Second Term
T. Greg Doucette, a 2009 computer science graduate at NC State University, has been elected unanimously to a second term as president of the UNC-system Association of Student Governments (ASG). This is the first time in the association's 37-year history that all 17 UNC institutions cast ballots for the same candidate. more
Department Confers 138 Degrees During Spring Diploma Ceremony
The NC State Department of Computer Science conferred 138 degrees during the Spring Diploma Ceremony on May 9, 2009, including eight PhDs, 67 MS degrees, and 63 BS degrees, expanding the department's alumni base to well over 5,800. NC State Computer Science graduate Rudy Puryear, leader of Bain & Company's Global IT Practice and a Bain partner in Chicago, delivered the keynote address. more
New SAS Hall Dedicated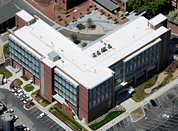 At a dedication celebration attended by more than 300 faculty, students, friends and alumni, Chancellor James L. Oblinger announced that the university's newly completed mathematics and statistics building would be named SAS Hall in honor of the founders of the Cary-based software company. more
Bolt Hits Belltower
Lightning struck the Belltower, knocking a capstone loose recently. Repairs were completed to the campus landmark prior to the Spring Commencement. more
U.S. News Survey Lists NC State Engineering Online as Largest Public Online Engineering Graduate Program
The Engineering Online program at North Carolina State University is the largest public distance-education engineering graduate program in the nation, according to a new survey published by U.S. News & World Report. more
Departmental Research Grants, Gifts, and Support
Cisco Systems has donated $25,000 to the department renewing its Super ePartner support for the 2009-10 academic year.
Google has donated $25,000 to support the research of Dr. Frank Mueller on Teaching Embedded Systems with Android/the Google G1 Phone. more
Thanks to the growing number of alumni and friends who continue to make one time and multi-year contributions to help establish the Carol Miller Student Leadership Endowment to honor long-time lecturer Carol Miller who plans to retire at the end of the 2008-09 academic year. Alumnus Jay Strickland has made a very generous matching gift pledge, committing to match all other alumni contributions up to $25,000 to help establish the endowment. Total pledges to the endowment now approach $35,000 and actual gifts total almost $12,000 to date. more
CSC Faculty / Staff News
Congratulations to Dr. George Ruskas, professor of computer science, and his wife Maggie on the birth of their son, Alexanderr.
The faculty and staff of the Department of Computer Science at NC State University wish to extend our deepest gratitude and appreciation to the following individuals who are retiring, or entering phased retirement this academic year: Dr. Thomas L. Honeycutt, associate professor, and Mrs. Carol Miller, lecturer. more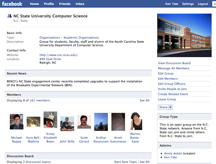 Department Pages on Facebook and LinkedIn
Alumni, students, faculty, staff, and corporate partners of the NC State Department of Computer Science, interested in networking to foster collaboration, entrepreneurship, partnerships, career development and professional growth are invited to join the department's pages on Facebook and LinkedIn.
CSC "Jobs List"
If you are a CSC student or alum and would like to receive an automatic email notice whenever new postings are activated on the CSC online jobs board, you are invited to subscribe to the cscjobs list. We may also use the list to announce career fairs, company campus visits & info sessions, and other career related events and activities. This is an "opt-in" list, so you must subscribe to receive the notices. Students can subscribe via the Subscribe Interface at http://lists.ncsu.edu/cgi-bin/mj_wwwusr (type cscjobs in the Mailing List box and press Search) or by sending an email to: mj2@lists.ncsu.edu (leave Subject Line blank), in the body of the message type subscribe cscjobs, and then send your message. For more information about subscribing please check http://lists.ncsu.edu/.