CSC eNewsletter
Welcome to the online edition of CSC eNews, a monthly electronic newsletter for alumni and friends of the Department of Computer Science at NC State University.
If you are a CSC alum and wish to be added to the email distribution list, click here. Corporate or individual friends of the department may be added to our distribution list by sending an email request to Ken Tate, Director of Development & External Relations for the NCSU Department of Computer Science.

---
May 31, 2007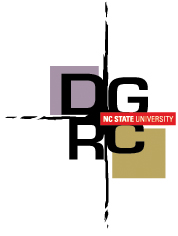 Department Launches the Digital Games Research Center
The science of games is about to get more serious in North Carolina. NC State University's Department of Computer Science recently announced the launch of its Digital Games Research Center (DGRC) to study an area of information technology that holds the promise to change the way we learn, play, collaborate and work in the 21st century. more
Departmental Research Grants, Gifts, and Support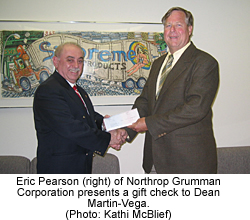 Northrop Grumman has made a significant $60,000 donation to the College of Engineering at NC State University to support a variety of departmental and diversity scholarships; K-12 outreach and diversity programs; student leadership development; the Career Center; and senior design projects across multiple departments including computer science. more
I-cubed has made a generous $7,000 donation in support of the department's Sr. Design Center student projects and ePartners programs.
Werum Software has made a generous $2,000 unrestricted donation to the department, and we welcome them as our newest ePartners.
Shari Lawrence Pfleeger has donated $500 in support of ThePrivacyPlace.org.
After generous donations to the Joyce Hatch Scholarship Endowment from Leslie Deak (on behalf of Richard Jefferson) and Frank Smith, the total pledges to this endowment have surpassed $40,000 and collections to-date have surpassed $23,000.
Dr. Peng Ning has received funding from Syracuse University (direct sponsor) and the National Science Foundation (NSF) (primary sponsor) of $20,000 to support his research proposal titled "SEED: Developing Instructional Laboratories for Computer Security Education." The award will run from January 1, 2008 through December 31, 2010.
CSC Faculty / Staff News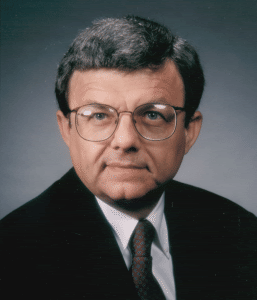 Dr. Alan Tharp, Alumni Distinguished Professor and previous Department Head of Computer Science, will begin his phased-retirement effective July 1, 2007. more
Dr. Peter Wurman, Associate Professor, will be leaving the department effective July 1st, 2007 to accept a position at Kiva Systems in Woburn, MA, where he has been working for the last couple of years while on leave from the University. He will be greatly missed, but we wish him the very best in his new job.
Carol Holloman, Finance Director retired from the department of computer science on May 31st, after 23 years of faithful service to NC State University. We wish her the very best in her retirement; she will be greatly missed.
The department is pleased to announce the addition of Dr. Nagiza Samatova and Kemafor Anyanwu to our faculty this fall. more
The department is pleased to announce the promotions of Drs. Matthias Stallmann, Rudra Dutta, and Vincent Freeh, effective July 1, 2007. more
Dr. Annie Antón, associate professor of computer science at NC State University, has been honored by the St. Pius X Catholic High School in Atlanta, Georgia, as the recipient of the 2007 St. Pius X Distinguished Alumna award. more
Congratulations to Dr. Peng Ning and his wife, Li, on the May 11th birth of their second son, Steven Ning. Both Mom and baby are doing well.
Department Celebrates Year-end with Pig Pickin'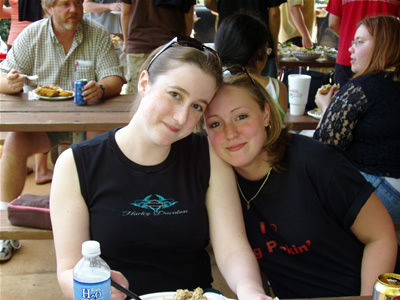 The 2007 ACM/AITP Computer Science Year-end Pig Pickin', an annual tradition within the department, was held on Friday, April 27th at Pullen Park. This year's event was sponsored by Cisco Systems and The Vanguard Group, and featured an all-you-can-eat BBQ and chicken buffet with all the fixins'. Several year-end awards were presented at the event. more
Department Confers 120 Degrees During Spring Diploma Ceremony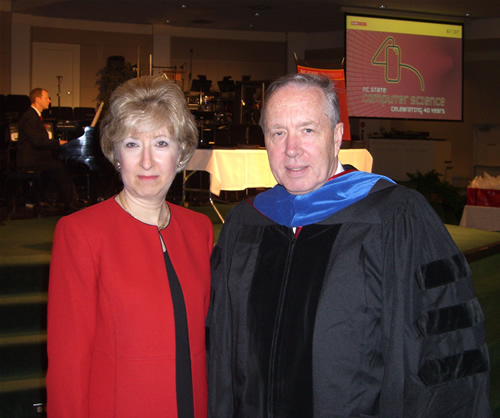 On May 12, 2007, approximately 1,100 relatives and guests watched in pride as 120 degrees were conferred by the NC State Department of Computer Science during the Spring Diploma Ceremony held at Providence Baptist Church in Raleigh. The graduating class included eight Ph.D.s, 47 MS degrees, and 65 BS degrees, expanding the department's alumni base to approximately 5,200. Sue Horn, VP of the IBM Software Group and RTP Site Executive with IBM, provided a spirited keynote address. more
Game On: Making Science Fun
"OK class, put away your paper and pencils and start your computer. It's time to play your video games." The HI FIVES program is working to help middle school teachers design and implement fun Internet games that help teach students STEM content. more
Mark Your Calendar - 2007-08 Recruiting Events
Corporate recruiters are advised to reserve the following calendar dates for important recruiting events at NC State during the 2007-08 academic year:
Oct 2 - ePartners Career Connection Event - 12 noon - 4 pm in EB2. This popular recruiting event is offered exclusively for our ePartner companies, and offers them an intimate environment to dialogue with our computer science students. You can expect meet as many as 200-300 CSC students during the event. Hold the date, as more information will be sent to our ePartners in the coming months. If you are not currently an ePartner and would like more information, contact Ken Tate.
Oct 3 - Fall Engineering Career Fair - 9:30 am - 4:00 pm in the McKimmon Center. This fall event is now full with over 190 companies registered to participate. Visit the event site if you are interested in getting on the wait list. Be sure to register for the spring event ASAP if interested, as it will fill up quickly too.
Oct 17 & 18 - Minority Career Fair – 10 am - 4 pm each day in Talley Student Center. This is the only non-college specific career fair on campus and one of the largest! Last year, more than 125 companies and over 2,000 students participated. Companies are advised to register early to reserve a spot (link)
Feb 7 - Spring Engineering Career Fair
- 9:30 am - 4:00 pm in the McKimmon Center. Identical to the fall event above, this too is one of the largest career fairs in the country held specifically for engineering students. More than 190 companies and over 2,000 engineering students will participate. Corporate registration is capped due to space limitations, and spaces are already filling up. Early registration for this event is a must! (
link
).
Alumni Volunteers Needed for 40th Year Celebrations
The NC State department of computer science proudly turns 40 this fall and we have several celebratory events planned (see link) including a "Leadership in Technology" Executive Speaker's Series, a student-led "Geek-a-Thon" to refurbish and distributed donated PCs, a Technical Symposium featuring keynote Steve Wozniak (co-founder of Apple Computer), a special 40th Year Celebration Gala (including an online and silent auction) at the Park Alumni Center, and 40th Year Tailgate Party prior to the Homecoming Game with UVA.
We are looking for a select group of dedicated, resourceful, and enthusiastic alumni who are willing to help with the festivities. If you are interested in volunteering, please contact
Ken Tate
to discuss the anticipated opportunities.
CSC "Jobs List"
If you are a CSC student and would like to receive an automatic email notice whenever new postings are activated on the CSC online jobs board, you are invited to subscribe to the cscjobs list. We may also use the list to announce career fairs, company campus visits & info sessions, and other career related events and activities. This is an "opt-in" list, so you must subscribe to receive the notices. Students can subscribe via the Subscribe Interface at http://lists.ncsu.edu/cgi-bin/mj_wwwusr (type cscjobs in the Mailing List box and press Search) or by sending an email to: mj2@lists.ncsu.edu (leave Subject Line blank), in the body of the message type subscribe cscjobs, and then send your message. For more information about subscribing please check http://lists.ncsu.edu/.
---