Computer Science eNewsletter
Below is department related news, gathered from a variety of sources across campus, provided monthly for alumni, students, and friends of the Department of Computer Science at NC State University.
If you are a CSC alum and wish to be added to the email distribution list, click here. Corporate or individual friends of the department may be added to our distribution list by sending an email request to Ken Tate, Director of Development & External Relations for the NCSU Department of Computer Science.

---
March 31, 2009
Wyatts to Establish Named Scholarship Endowment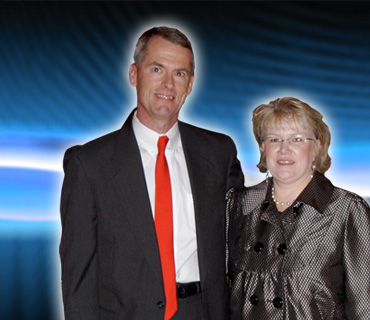 Alumnus Mark Wyatt (B.S. '80) and his wife Robin (shown at right), have recently finalized gift plans directing outright and deferred planned gifts to establish the Mark and Robin Wyatt Scholarship Endowment. The planned gift, when fully in place, will result in an endowment valued in excess of $500,000, the largest single known planned gift ever documented from a NC State computer science alum. more
NC State Upgrade Brings BEN to Campus
RENCI's NC State engagement center recently completed upgrades to support the installation of the Breakable Experimental Network (BEN). BEN serves as a test bed for experimentation with new networking technologies that will help make networked communications faster, easier and more reliable. more
DGRC Brochure Wins American Graphic Design Award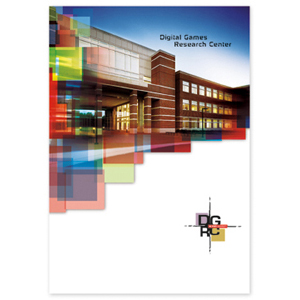 NC State's Digital Games Research Center's (DGRC) new brochure has received a 2008 American Graphic Design Award. The American Design Awards (ADA) is among the top internationally recognized design organizations, and perhaps the most popular independent awards organization globally with more than 35,000 submissions annually. more
NC State Lands Grant to Boost Diversity in Science and Engineering
North Carolina State University has received a two-year, $987,000 grant from the National Science Foundation to encourage underrepresented minority students to enter graduate school in engineering, science and related fields. more
FIZZ: Teaching Through Technology
With all the interest in Web 2.0 – such as blogs, networking sites and Twitter – it is no surprise that many teachers are wondering, "How do I use this in the classroom?". more
A Day of Champions
It's never happened in more than 115 years of athletics competition at NC State: two NCAA titles in the same day. more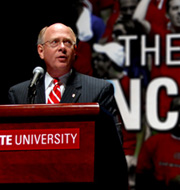 The State of NC State
During his second-annual State of NC State address, held Tuesday at Stewart Theatre, NC State University Chancellor James L. Oblinger celebrated a year's worth of accomplishments by members of the university community, while also calling upon them to continue NC State's legacy of groundbreaking research, education and service in spite of the challenging economic uncertainties facing those on campus and beyond. more
Bowles Fighting Permanent Budget Cuts
A day after he met with state legislators to argue against permanent budget cuts for North Carolina's public university system, UNC system president Erskine Bowles told NC State's staff senate that a potential 7 percent reduction in state funding would have a devastating impact on the 16-campus system. more
NC State's Response to the Recovery Act of 2009
The $789 billion economic stimulus package put in place by the American Recovery and Reinvestment Act of 2009 (ARRA) passed by Congress on Feb. 13, 2009 and signed into law by President Obama on Feb. 17, will have a direct impact on the North Carolina University system and the State of North Carolina. more
Departmental Research Grants, Gifts, and Support
ePartner, Harris Corporation has donated $5,000 in support of the department's ACM Regional Programming Contest teams and the Women in Computer Science program.
Alumnus Greg Sparks (B.S. '92) has made a $1,000 pledge in support of the Joyce Hatch Scholarship Endowment. Since Joyce's retirement in 2006, over 60 alums, faculty, staff, family and friends have pledged almost $43,000 to the scholarship fund. gift form
Dr. Jon Doyle, SAS Institute professor of computer science, has been awarded $83,377 by the Massachusetts Institute of Technology (MIT) to support his research proposal titled "Formal Models of Belief Change in Cultural Context." more
Dr. Frank Mueller, associate professor, has been awarded $60,000 by the Lawrence Berkeley National Lab to support his research proposal titled "BLCR Support for Job Pause, Live Migration and Incremental Checkpointing." more
Thanks to the growing number of alumni and friends who continue to make one time and multi-year contributions to help establish the Carol Miller Student Leadership Endowment to honor long-time lecturer Carol Miller who plans to retire at the end of the 2008-09 academic year. Alumnus Jay Strickland has made a very generous matching gift pledge, committing to match all other alumni contributions up to $25,000 to help establish the endowment. more
CSC Faculty / Staff News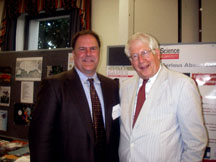 Dr. R. Michael Young, associate professor, has been named an Outstanding Extension Service Award (OESA) recipient for the College of Engineering. Young (shown at right with Rep. David Price) has also been inducted into the Academy of Outstanding Faculty Engaged in Extension (AOFEE). more
Dr. Annie Antón, professor, has been re-elected to a three-year term on the Computing Research Association (CRA) Board of Directors. more
Please join us in saying good-bye and best wishes to two valued members of our staff: Michael Underwood, Operations and Systems Analyst, and Missy Seate, Contracts & Grants Manager. Michael has taken an expanded operation systems role in the College of Engineering's ITECS group, and Missy has been promoted to Director of Research Administration for the College of Humanities and Social Sciences.
We would like to welcome Vadim Kuznetsov, who joins our IT group as an Operations and Systems Analyst providing Linux administration support for classroom and teaching needs.
Department Pages on Facebook and LinkedIn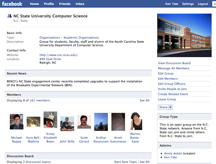 Alumni, students, faculty, staff, and corporate partners of the NC State Department of Computer Science, interested in networking to foster collaboration, entrepreneurship, partnerships, career development and professional growth are invited to join the department's pages on Facebook and LinkedIn.
CSC "Jobs List"
If you are a CSC student or alum and would like to receive an automatic email notice whenever new postings are activated on the CSC online jobs board, you are invited to subscribe to the cscjobs list. We may also use the list to announce career fairs, company campus visits & info sessions, and other career related events and activities. This is an "opt-in" list, so you must subscribe to receive the notices. Students can subscribe via the Subscribe Interface at http://lists.ncsu.edu/cgi-bin/mj_wwwusr (type cscjobs in the Mailing List box and press Search) or by sending an email to: mj2@lists.ncsu.edu (leave Subject Line blank), in the body of the message type subscribe cscjobs, and then send your message. For more information about subscribing please check http://lists.ncsu.edu/.