CSC eNewsletter
Welcome to the online edition of CSC eNews, a monthly electronic newsletter for alumni and friends of the Department of Computer Science at NC State University.
If you are a CSC alum and wish to be added to the email distribution list, click here. Corporate or individual friends of the department may be added to our distribution list by sending an email request to Ken Tate, Director of Development & External Relations for the NCSU Department of Computer Science.

---
March 30, 2007
NC State Engineer Creates First Academic Playstation 3 Computing Cluster
Dr. Frank Mueller, an associate professor of computer science, has built a supercomputing cluster capable of both high-performance computing and running the latest in computer gaming. His cluster of eight Sony PS3 machines — the first such academic cluster in the world — packs the power of a small supercomputer, but at a total cost of about $5,000, it costs less than some desktop computers that have only a fraction of the computing power. more
Departmental Research Grants, Gifts, and Support
The NC State University Department of Computer Science is very proud to announce the creation of the Network Appliance Scholarship Endowment, a new merit-based scholarship which will support future generations of computer science students. more
Dr. Steffen Heber has been awarded $227,029 by the NC Biotechnology Center to fund his research proposal titled "A Bioinformatics Computing Cluster for NC State University." more
Thanks to San Jose, CA alumni, Bobby Johnson and Chris Crump for serving as co-hosts for the "Meet-the-Dean" luncheon held in the Silicon Valley on March 14th.
Thanks to the NC chapter of the Society for Information Management (NC-SIM) and Cisco Systems for their commitments to sponsor the Geek-a-thon (refurbishment of PCs for

disadvantaged middle-school families) scheduled for next October. NC-SIM has no only made a significant financial commitment as the event's Platinum sponsor, they have also pledged to work with their members to donate a significant number of PCs to be refurbished. Click here for more information on how you can get involved in this this event.
CSC Faculty / Staff News
Carol Holloman, Finance Director for the department of computer science, has announced that she will be retiring effective May 31st, after 23 years of faithful service to NC State University. We wish her the very best in her retirement; she will be greatly missed.
Dr. Annie Antón, associate professor of computer science at NC State University, is among five faculty featured as leaders in Public Policy by the School of Public and International Affairs (SPIA) in a brochure released recently by the school. more
Martin-Vega Named MOSI National Hispanic Scientist of the Year
Dr. Louis A. Martin-Vega, Dean of Engineering at NC State University, has been named the Museum of Science & Industry's (MOSI) 2007 National Hispanic Scientist of the Year. more
CSC Student Takes 1st Place in ACM Student Research Competition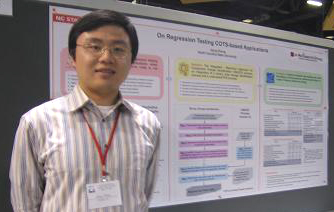 Congratulations to Jiang Zheng, a computer science doctoral student and research assistant, who recently took first place in the "graduate category" of the ACM Student Research Competition at SIGCSE 2007 in Covington, Kentucky. His advisor is Dr. Laurie Williams. more
Castillo Named Finalist for Google 2007 Anita Borg Scholarship
Congratulations to Claris Castillo, a doctorial student and teaching assistant for the department of computer science, as she was recently named a finalist for The Google 2007 Anita Borg Scholarship. Castillo is co-advised in her studies by Drs. George Rouskas and Khaled Harfoush. more
Seven NC State Papers Selected for Presentation at INFOCOM 2007
IEEE's INFOCOM, the major flagship conference in networking recently announced the acceptance of seven papers from NC State University for presentation at their 26th annual conference scheduled for May 6-12 in Anchorage, Alaska. Six of the seven NC State papers came from the department of computer science, a significant achievement which serves to highlight the quality of our networking faculty and students, and the research they are conducting. more
Engineering 'Open House' Set for April 14th
The College of Engineering at NC State University will host an Engineering Open House on Saturday, April 14, 2007, from 9 a.m. to 1 p.m. All Engineering departments on Main Campus and Centennial Campus will participate with tours, displays and information sessions for middle school students, prospective students, admitted students, parents and guests. more
Special Wall Features Faculty Publications
Over spring break, a special "Faculty Publication Wall" was installed in EBII, featuring color prints of book covers and unique publications which our computer science faculty have authored, co-authored, or played a special role in the creation of. The wall is located on the first floor of the east wing of EBII, in the hallway just off the atrium (near the future home of the Port City Java). It currently features 36 books and publications, but has room to accommodate more. more
2007 Parks Scholars Announced
NC State University has selected 51 students as Park Scholars for fall 2007, including two who plan to major in computer science. These prestigious awards are valued at about $59,000 for North Carolina residents and $107,000 for out-of-state students. The scholarship winners were selected from among more than 1,000 applicants. more
CSC "Jobs List"
If you are a CSC student and would like to receive an automatic email notice whenever new postings are activated on the CSC online jobs board, you are invited to subscribe to the cscjobs list. We may also use the list to announce career fairs, company campus visits & info sessions, and other career related events and activities. This is an "opt-in" list, so you must subscribe to receive the notices. Students can subscribe via the Subscribe Interface at http://lists.ncsu.edu/cgi-bin/mj_wwwusr (type cscjobs in the Mailing List box and press Search) or by sending an email to: mj2@lists.ncsu.edu (leave Subject Line blank), in the body of the message type subscribe cscjobs, and then send your message. For more information about subscribing please check http://lists.ncsu.edu/.
---