CSC eNewsletter
Welcome to the online edition of CSC eNews, a monthly electronic newsletter for alumni and friends of the Department of Computer Science at NC State University.
If you are a CSC alum and wish to be added to the email distribution list, click here. Corporate or individual friends of the department may be added to our distribution list by sending an email request to Ken Tate, Director of Development & External Relations for the NCSU Department of Computer Science.

---
June 30 , 2007
Department Launches Center for Open Software Engineering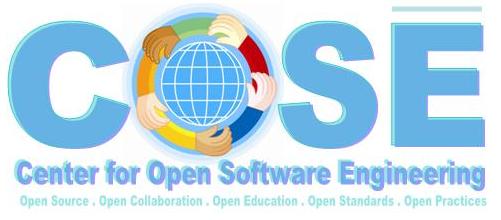 North Carolina is making a bold move towards establishing itself as the center of competency for the science of open source software engineering, as NC State's Department of Computer Science announces the launch of its Center for Open Software Engineering (COSE, pronounced "cozy") to study the engineering of open source software. more
Departmental Research Grants, Gifts, and Support
Alumnus and Strategic Advisory Board member, Jesse Fearrington, Jr. (BS '73), has made a generous gift of stock valued at over $5,441 in support of the Diversity in Computer Science Endowment, $1,000 of which will be made available for an early scholarship award during the 2007-08 academic year. The Diversity Endowment, a relatively new endowment targeting programs and scholarships designed to increase the attraction and retention rate of females and minorities in computer science, has grown in value to almost $45,000 and has pledges of over $80,000.
Fidelity Investments has made a $25,000 donation in support of strategic programs within the department (more exciting news to come regarding this gift in July). In recognition of their support, Fidelity Investments becomes the department's latest Super ePartner.
Thanks to Computer Service Partners (CSP) and RedPrairie for their renewed support of the department's ePartners program.
Concert Technology Corporation, Weston Solutions and Crispin Corporation have donated $5,000 each in support of the department's Sr. Design Center.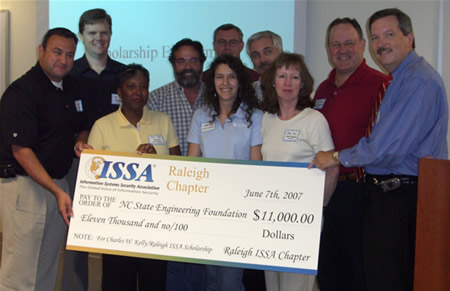 The Raleigh chapter of the Information Systems Security Association (ISSA) has made a donation of $11,000, allowing for the official launch of the Charles Kelly / ISSA Scholarship Endowment. more
Hewlett-Packard has donated two Itanium Montecito Multi-Core SMP servers valued at almost $43,000 to Dr. Frank Mueller, to be used to support his research.
Dr. Ben Watson has been awarded $50,000 by the National Science Foundation (NSF) (prime sponsor) via Northwestern University to fund his research proposal titled "Procedural Modeling of Urban Land Use and Form." The award will run from May 16, 2007 through May 15, 2008.
CSC Faculty / Staff News
Dr. Harry Perros, professor and alumni distinguished professor of computer science, delivered the keynote at the NUST Institute of Information Technology optical networks workshop in Islamabad, Pakistan during the last week of April 2007. more
Dr. Annie Antón, associate professor of computer science, recently testified as an expert witness at a Congressional Hearing on Social Security Number (SSN) privacy, held by the House Committee on Ways and Means. more
Dr. Frank Mueller, associate professor of computer science, will be on sabbatical during the 2007-08 academic year. He is going to Konrad-Zuse-Zentrum für, Informationstechnik Berlin, Germany.
NC State University and IBM Help Bridge Digital Divide in North Carolina, and Beyond
NC State and IBM announce that the Virtual Computing Initiative (VCI) is making tools and resources available to students at all educational levels to build 21st century skills. more
Cisco Grant Supports Game Room and Student Organizations
Soon students in Electrical and Computer Engineering as well as Computer Science will have a place on Centennial Campus to socialize and have a little fun. With generous support from Cisco Systems, a game room will be up and running in Engineering Building II in a room just off of the atrium. The game room comes complete with a ping-pong table, air hockey table, foosball machine, a large television with PlayStation II games as well as Guitar Hero and Dance Revolution. Student organizations will also provide board games from various cultures so that all students can enjoy this room. more
Geek-a-Thon Set for October 5-7 at Centennial Campus Middle School

As part of our 40th Year Celebration, the ACM/AITP and WiCS student organizations, in association with the NC State Department of Computer Science and the Kramden Institute, Inc., and in partnership with Centennial Campus Middle School, will host a Geek-a-Thon the weekend of October 5-7, 2007. Primary sponsors of the event include the NC chapter of the Society for Information Management (Platinum Sponsor) and Cisco Systems (Silver Sponsor). A Geek-a-Thon is a weekend long event where computers are refurbished and then donated to help high-achieving, but less-advantaged middle school students in Wake County cross the digital divide. A large portion of the refurbished PCs will go to families of students from Centennial Campus Middle School, our partner and host for the event. more
Mark Your Calendar - 2007-08 Recruiting Events
Corporate recruiters are advised to reserve the following calendar dates for important recruiting events at NC State during the 2007-08 academic year:
Oct 2 - ePartners Career Connection Event - 12 noon - 4 pm in EB2. This popular recruiting event is offered exclusively for our ePartner companies, and offers them an intimate environment to dialogue with our computer science students. You can expect meet as many as 200-300 CSC students during the event. Each participating company will be provided one 6 ft table w/ drape. Plan to arrive by 11:30 am for set-up. A special hospitality room with boxed lunches and refreshments will be available to recruiters from 11 am to 2 pm. To register your company's intentions to participate, please reply with the total number of recruiters you plan to bring, no later than the end of July. Parking and other logistical info will be sent out in August. If you are not currently an ePartner and would like more information, contact Ken Tate.
Oct 2 - Golden Opportunity (GO) Event - 5 - 8 pm in EBII. This popular event, sponsored by the Department of Electrical & Computer Engineering, features a unique format and includes students and organizations from a variety of engineering departments that you might be interested in recruiting. For your convenience, this event has been scheduled after our ePartners Career Connection and before the Engineering Career Fair. To register or to get more information, contact Tara Britt.
Oct 3 - Fall Engineering Career Fair - 9:30 am - 4:00 pm in the McKimmon Center. This fall event is now full with over 190 companies registered to participate. Visit the event site if you are interested in getting on the wait list. Be sure to register for the spring event ASAP if interested, as it will fill up quickly too.
Oct 17 & 18 - Minority Career Fair – 10 am - 4 pm each day in Talley Student Center. This is the only non-college specific career fair on campus and one of the largest! Last year, more than 125 companies and over 2,000 students participated. Companies are advised to register early to reserve a spot (link)
Feb 7 - Spring Engineering Career Fair
- 9:30 am - 4:00 pm in the McKimmon Center. Identical to the fall event above, this too is one of the largest career fairs in the country held specifically for engineering students. More than 190 companies and over 2,000 engineering students will participate. Corporate registration is capped due to space limitations, and spaces are already filling up. Early registration for this event is a must! (
link
).
CSC "Jobs List"
If you are a CSC student and would like to receive an automatic email notice whenever new postings are activated on the CSC online jobs board, you are invited to subscribe to the cscjobs list. We may also use the list to announce career fairs, company campus visits & info sessions, and other career related events and activities. This is an "opt-in" list, so you must subscribe to receive the notices. Students can subscribe via the Subscribe Interface at http://lists.ncsu.edu/cgi-bin/mj_wwwusr (type cscjobs in the Mailing List box and press Search) or by sending an email to: mj2@lists.ncsu.edu (leave Subject Line blank), in the body of the message type subscribe cscjobs, and then send your message. For more information about subscribing please check http://lists.ncsu.edu/.
---