Computer Science eNewsletter
Faster Downloads for Smartphones

Tired of waiting around for your smartphone to play that video? NC State computer scientists have good news: Faster downloads are coming soon. Chancellor's Innovation Fund award winner Dr. Injong Rhee has helped develop a new algorithm that cuts down data retrieval time for the software programs that power smartphones and tablets. more

Protecting the Cloud
At the heart of cloud computing is the hypervisor, software that allows multiple users to run programs concurrently on a host computer. But if a malicious program gains access to the hypervisor, the data held by all those users could be changed or stolen. With help from the Chancellor's Innovation Fund, Drs. Ahmed Azab and Peng Ning have developed a new security mechanism called HyperSentry that they hope will be adopted on large servers, PCs and mobile phones to help keep these devices secure. more
Researchers Track Facial Expressions to Improve Teaching Software

Research from NC State University shows that software which tracks facial expressions can accurately assess the emotions of students engaged in interactive online learning and predict the effectiveness of online tutoring sessions. "This work is part of a larger effort to develop artificial intelligence software to teach students computer science," says Dr. Kristy Boyer, an assistant professor of computer science at NC State and co-author of a paper on the work. more
Researchers Use Video Game Tech to Steer Roaches on Autopilot
NC State University researchers, including CSC's Eric Whitmire, are using video game technology to remotely control cockroaches on autopilot, with a computer steering the cockroach through a controlled environment. The researchers are using the technology to track how roaches respond to the remote control, with the goal of developing ways that roaches on autopilot can be used to map dynamic environments – such as collapsed buildings. more
NC State Named a Top National STEM University
A new ranking confirms NC State's position as a STEM education powerhouse. The list, released Tuesday by U.S. News & World Report, establishes NC State as the No. 1 land-grant institution among top national colleges and universities granting the largest percentage of bachelor's degrees in the STEM fields – science, technology, engineering and mathematics. more
Galloway Chosen for Google Teaching Fellows Practicum

Congratulations to recent NC State Computer Science graduate KaMar Galloway (BS CSC 2013) on being chosen to participate in the Google Computer Science Teaching Fellows Practicum. His area of focus is K-12 computer science education. "I will be part of a brand new initiative by Google to help create the future of Computer Science and Technology Curricula for young minds in the Southeast," said Galloway. "It is an amazing feeling to see my hard work pay off as I gain employment with one of the world's most admired companies." more
Engineering Online Ranked Top Online Program for Veterans, Active Duty Military by U.S. News & World Report
Engineering Online at NC State University has been named the nation's top online graduate engineering program for veterans and active duty military personnel by U.S. News & World Report. North Carolina is home to the nation's third-largest military population. more
iCafe is Closed
The iCafe, the temporary dining facility operated by University Dining and next door to the College of Engineering, is now closed in anticipation of the opening of On the Oval in August. On the Oval is the new and exciting dining facility that will be located on the first floor of one of the new student housing buildings being constructed on the Oval across from the Hunt Library. Featuring a variety of culinary options, this facility is going to significantly add to the mix of dining options available to students, faculty and staff on Centennial Campus.
Alumna Wins Pass-It-On Award for Work in Peru

Congratulations to Andrea Villanes, a recent graduate of the NC State Computer Science Master's Degree program, on winning an Anita Borg Systers Pass-It-On Award. The title of Villanes' project is "Reaching Out Peru!". Villanes is a founder of "Women in Technology" (WIT) in Perú, a group that was formed in 2012 as a result of the collaboration of several girls working in technology. more
Splatter, Shatter or Bounce?
On Tuesday, June 18, high school students at a NC State University engineering camp saw first-hand how materials react under pressure when they watched a 100-pound ball of Silly Putty drop from the roof of the 11-story, 141-foot-tall D.H. Hill Library onto the campus Brickyard. more
Departmental Gifts & Research
Congratulations to Da Young Lee, a PhD student in the NC State Computer Science department, on receiving a Graduate Industrial Traineeship (GIT) valued at $50,604 from SAS. more
Cisco Systems is continuing its support of an NC State internship program with an additional $32,000 gift to the Computer Science Department. Total funding for the program, which originated in July 2011, is now over $160,000. more
CSC Wolf Bytes
Dr. Will Enck recently served as a guest panelist at Mobile Security, Potential Threats and Solutions, a special public forum hosted by the Federal Trade Commission. The forum brought together technology researchers, industry members and academic leaders to explore the security of existing and developing mobile technologies and the roles various members of the mobile ecosystem can play in protecting consumers from these types of security threats. more
Congratulations to alum, Will Brockelsby, a Sr. IT Architect at NC State University, who's proposal was one of eight selected at the US Ignite Application Summit for the 2013 Internet2 Innovative Application Awards program. more
The department congratulates 2012-13 academic year retirees, Tari Ryan and Ron Hartis on their service and contributions over the years and wishes them the best in their retirement!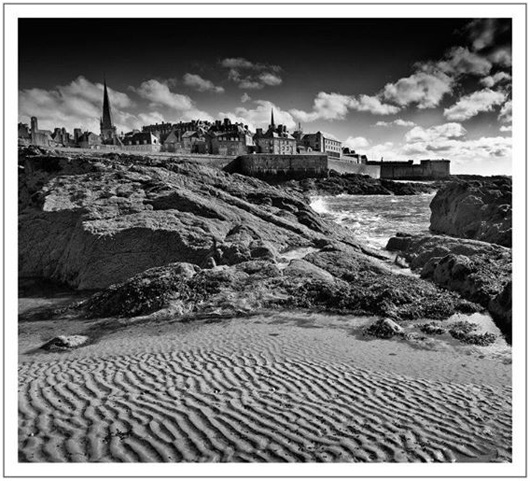 The photography of Dr. Billy Stewart, such as his award-winning Rippled Beach (above), will be featured in Timeless Impressions, an exhibit in the Page Walker Arts and History Center in Cary, NC, June 27-July 21. more
Follow the Department on Facebook, LinkedIn, and Twitter!

Alumni, students, faculty, staff, and corporate partners of the NC State Department of Computer Science, interested in networking to foster collaboration, entrepreneurship, partnerships, career development and professional growth are invited to follow us on Facebook, LinkedIn, and Twitter.
Personalized Job Search Agent in ePack
If you are a CSC student or recent graduate (within 12 months post-graduation) and would like to receive email notifications when new jobs are posted on ePack matching your profile, you can set up your own customized job search agent to receive just the postings you desire (intern vs. full time, etc). For a short video tutorial on how to create your own personalized job agent, click here. Experienced alumni looking for career assistance are encouraged to take advantage of NC State's Alumni Career Service.