Computer Science eNewsletter
Below is department related news, gathered from a variety of sources across campus, provided monthly for alumni, students, and friends of the Department of Computer Science at NC State University.
If you are a CSC alum and wish to be added to the email distribution list, click here. Corporate or individual friends of the department may be added to our distribution list by sending an email request to Ken Tate, Director of Development & External Relations for the NCSU Department of Computer Science.

---
July 31, 2009
Clues to An Astrophysical Mystery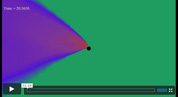 A new Renaissance Computing Institute (RENCI) animation created from a mathematical model shows a black hole moving supersonically through an interstellar gas cloud. This phenomenon often occurs in multiple star systems, where a companion star provides the gas cloud. The gravity of the black hole pulls the gas inward. Early on in the process, a wake forms behind the black hole, much like the wake behind a motorboat. Unlike a motorboat wake, it begins to move back and forth after a while until it whips all the way around the black hole, forming an accretion disk of gas falling into the hole. more
Center for Open Software Engineering Joins Open Source for America
NC State's Department of Computer Science Center for Open Software Engineering (COSE) announced today that it has joined Open Source for America, a broad cross-section of more than 50 companies, academic institutions, communities, related groups and individuals that serve as a unified voice for the promotion of open source in the U.S. Federal government sector. Open Source for America strives to effect change in government to encourage broader support of open source technologies and the open source development community. more
Alumni Achiever: John Steensen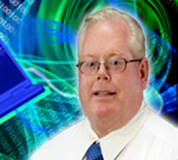 Many engineers have seen the poetry in technology, but John Steensen (BSBC '73) has put that poetry into words. As the author of the collection TechnoProse: 32 Poems Inspired by the Technology Around Us, Steensen examines how technology has become part of our lives in ways that range from humorous to thoughtful. more
Budget Details Released
NC State will lose 440 faculty and staff positions under the $53 million budget reduction plan submitted to the University of North Carolina system last week. The positions include 117 EPA faculty, 117 EPA professional and 206 SPA jobs. Forty percent of the jobs that will be eliminated – 176 – are currently filled. more
Historic Western Lanes Revitalized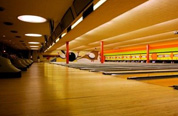 Western Lanes bowling alley is one of Hillsborough Street's most enduring and cherished landmarks. Now called The Alley, the newly refurbished lanes offer a fresh spin on America's favorite retro pastime of bowling. With 24 original wooden lanes dating back to the 1960s, The Alley offers two full bars, a newly constructed game room and a recently renovated restaurant. here
NC State Chancellor Search Committee Members Named
The North Carolina State University Board of Trustees approved an 18-member search committee to help identify a new chancellor for the university after the resignation of Dr. James Oblinger. The committee includes, Gayle Lanier, former member of the department's Strategic Advisory Board. more
Departmental Research Grants, Gifts, and Support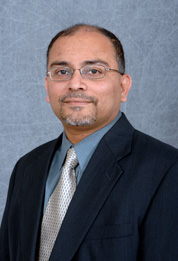 Dr. Rudra Dutta (right) has been awarded $149,960 by the Army Research Office (ARO) to fund his collaborative research with Dr. Mihail Sichitiu (ECE) to build an outdoor wireless mesh testbed on Centennial Campus! more
The department is very proud to announce that nine members of its faculty have been selected to receive 2009 IBM Faculty Awards totaling $267,000. more
The NC Chapter of the Society for Information Management (NC-SIM) has donated $5,528 to support scholarship awards during the 2009-10 academic year. more
CSC Faculty / Staff News
Congratulations to Ann Hunt, who has accepted the department's offer to become our new Contract Manager & Research Facilitator, a critical role which works with faculty on pre- and post-processing of sponsored research contracts and grants.
Robin Martin Buchanan, daughter of the late Dr. Donald Martin (former professor and department head), passed away on July 11. The family requests that in lieu of flowers, donations be made to the Pancreatic Cancer Action Network (www.pancan.org).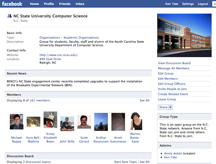 Department Pages on Facebook and LinkedIn
Alumni, students, faculty, staff, and corporate partners of the NC State Department of Computer Science, interested in networking to foster collaboration, entrepreneurship, partnerships, career development and professional growth are invited to join the department's pages on Facebook and LinkedIn.
CSC "Jobs List"
If you are a CSC student or alum and would like to receive an automatic email notice whenever new postings are activated on the CSC online jobs board, you are invited to subscribe to the cscjobs list. We may also use the list to announce career fairs, company campus visits & info sessions, and other career related events and activities. This is an "opt-in" list, so you must subscribe to receive the notices. Students can subscribe via the Subscribe Interface at http://lists.ncsu.edu/cgi-bin/mj_wwwusr (type cscjobs in the Mailing List box and press Search) or by sending an email to: mj2@lists.ncsu.edu (leave Subject Line blank), in the body of the message type subscribe cscjobs, and then send your message. For more information about subscribing please check http://lists.ncsu.edu/.