CSC eNewsletter
Welcome to the online edition of CSC eNews, a monthly electronic newsletter for alumni and friends of the Department of Computer Science at NC State University.
If you are a CSC alum and wish to be added to the email distribution list, click here. Corporate or individual friends of the department may be added to our distribution list by sending an email request to Ken Tate, Director of Development & External Relations for the NCSU Department of Computer Science.

---
December 23 , 2008
Department Confers 177 Degrees During Fall Diploma Ceremony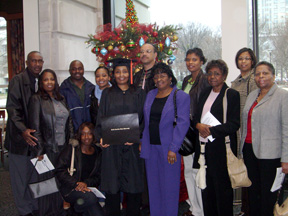 On December 17, 2008, approximately 1,000 relatives and guests watched with pride as 177 degrees were conferred by the department during its Fall 2008 Diploma Ceremony held in the beautiful Meymandi Concert Hall at the Progress Energy Center for Performing Arts in downtown Raleigh. This graduating class included 13 PhDs and 109 MS degrees, the largest number of advanced degrees ever awarded by the department in a single ceremony. Another 55 received BS degrees, expanding the department's alumni base to over 5,700. more
Heckman and Breaux Win IBM Ph.D. Fellowship Awards
Congratulations to CSC graduate students Sarah Smith Heckman and Travis Breaux, each of whom were recently awarded the prestigious 2008 IBM Ph.D. Fellowship Award. This is the third consecutive year that Heckman and Breaux have been honored by winning these awards. more
Zimmer Receives FREEDM Graduate Fellowship
Christopher J. Zimmer, doctoral student in computer science at NC State University, has been selected as a recipient of the FREEDM Systems Center Graduate Fellowship for 2008. The fellowship consists of a certificate and a check for $5,000. more
Fidelity Investments "Leadership in Technology" Series Presents Dr. Diana Oblinger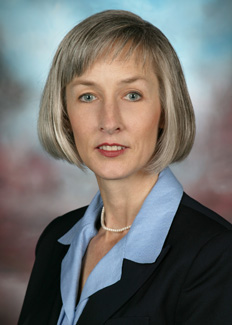 Please join us on January 29th at 6 pm in Lecture Hall 1231 EB2 for the next talk in the Fidelity Investments "Leadership in Technology" Executive Speakers Series. Our special guest speaker will be Dr. Diana Oblinger (bio & abstract), president and CEO of EDUCAUSE. Her talk topic will be "Uncommon Thinking for the Common Good". more
NC State Grad Named White House Press Secretary
After NC State alum Dr. Rajendra Pachauri won the Nobel Peace Prize last year, I think we all wondered how the university's remarkably competitive alumni would top that. Then along came Robert Gibbs. Gibbs, who graduated cum laude with a bachelor's degree in political science from NC State in 1992, may not have a fancy award like Pachauri, but every time he opens his mouth, it's news – literally. more
Timesavers: Researchers Finding Ways to Improve Cell-phone Design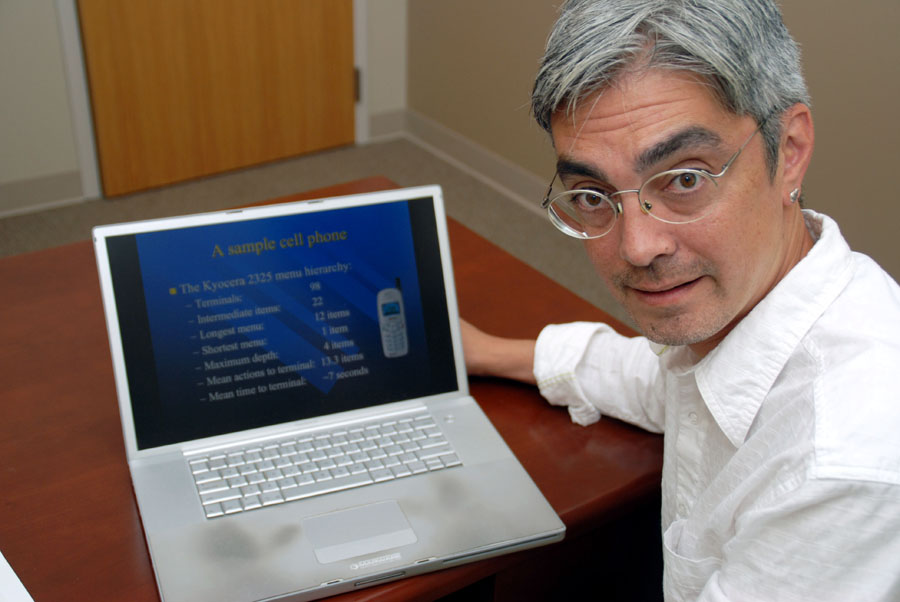 According to research conducted by NC State computer scientists, "if 2 billion users were to use their cell phone menus every day for just three seconds, our improvements could save almost 30 years of user time per day." Those findings, published last year in the journal ACM Transactions on Computer-Human Interaction, came from research conducted by Dr. Robert St. Amant, associate professor of computer science. more
Red Means Go Poinsettias!
Some already had names like Eggnog and Red Elf, while others – now called RF 0514 and SK 62 – hope someday to have clever names like Cinnamon Stick or Christmas Angel. All were poinsettia plants on display at NC State's Horticultural Field Laboratory and J.C. Raulston Arboretum for the National Poinsettia Trial Program and 2008 Poinsettia Open House. more
Inside the Fight for Privacy Protection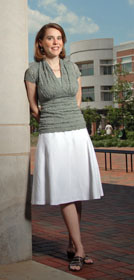 Coming from a family of physicians, Dr. Annie Antón knows that protecting privacy is important. The professor of computer science at NC State is a spokesperson for the cause, as she has become an internationally recognized expert on privacy policy in software systems. She's breaking new ground in the field by bringing legal and technical minds together to tackle complex privacy policies, the technology that supports them, and the practices that can lead to security breaches and data leaks. more
The Science of Santa
Don't believe in Santa Claus? Cutting-edge science explains how Santa is able to deliver toys to good girls and boys around the world in one night. If you're skeptical of Santa's abilities to deliver presents to millions of homes and children in just one night, Dr. Larry Silverberg, professor of mechanical and aerospace engineering, can explain the science and engineering principles that allow the Jolly Old Elf to pull off the magical feat year after year. more
Departmental Research Grants, Gifts, and Support
Super ePartner, Tekelec has donated $25,000 to the department in support of the Senior Design Center, several ePartners related programs and initiatives, and the establishment of the Tekelec Computer Science Scholarship Endowment.
First Citizens Bank has donated $6,000 to the department in support of the Sr. Design Center and the ePartners Program.
Qualcomm has donated $10,000 to the department in support of the Sr. Design Center.
YoungAndTalented.com has donated $5,000 to the department in support of the Sr. Design Center.
Mrs. Ling Tai has donated $2,500 to the KC Tai Memorial Endowment fund.
Thanks to the numerous alumni who have made one time and multi-year contributions to help establish the Carol Miller Student Leadership Endowment to honor long-time lecturer Carol Miller who plans to retire at the end of the 2008-09 academic year. Alumnus Jay Strickland has made a very generous matching gift pledge, committing to match all other alumni contributions up to $25,000 to help establish the endowment. more
Alumnus, Jim Faulkner (B.S. '78) and his wife Barbara have donated $2,000 to support the cash award funds for both the Doris and Don Martin Scholarship and the Joyce Hatch Scholarship Endowments. Given that approximately 50 percent of NC State's scholarship endowments are "under water" due to the recent downward market spiral, generous donations such as this will allow us to continue making student awards during the 2009-10 academic year.
Wayne Clark, emeritus member of the Strategic Advisory Board and long-time friend of the department, has donated several discipline-related collectables to the department including an Osborne OCC-1 Computer, a Compaq Luggable, Issues #1 & 2 of Byte Magazine, and much more. The collection, valued at approximately $1,000, is now on display in EB2 on the main floor outside Lecture Hall 1231.
CSC Faculty / Staff News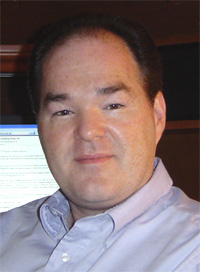 The department welcomes Dr. Bradford Mott, who joins us as a Research Scientist serving as the lead architect for the Crystal Island learning environment project that was first launched as part of his dissertation research in 2005. more
Dr. Annie Antón, professor of computer science at NC State University, has been named to the Information Science and Technology (ISAT) study group. more
The Office of Graduate Programs announces the departure of Kelly Michels, wishing her the very best in her future endeavors. They also welcome back Tom Ryan, who will serve on a permanent part-time basis during the busiest periods including the busy application-processing period.
Condolences to Drs. Marty Dulberg and Jasmine Adams on the recent passing of Marty's brother.
CSC "Jobs List"
If you are a CSC student or alum and would like to receive an automatic email notice whenever new postings are activated on the CSC online jobs board, you are invited to subscribe to the cscjobs list. We may also use the list to announce career fairs, company campus visits & info sessions, and other career related events and activities. This is an "opt-in" list, so you must subscribe to receive the notices. Students can subscribe via the Subscribe Interface at http://lists.ncsu.edu/cgi-bin/mj_wwwusr (type cscjobs in the Mailing List box and press Search) or by sending an email to: mj2@lists.ncsu.edu (leave Subject Line blank), in the body of the message type subscribe cscjobs, and then send your message. For more information about subscribing please check http://lists.ncsu.edu/.