CSC eNewsletter
Welcome to the online edition of CSC eNews, a monthly electronic newsletter for alumni and friends of the Department of Computer Science at NC State University.
If you are a CSC alum and wish to be added to the email distribution list, click here. Corporate or individual friends of the department may be added to our distribution list by sending an email request to Ken Tate, Director of Development & External Relations for the NCSU Department of Computer Science.

---
December 31, 2006
NC State Achieves! $1B Fundraising Goal
NC State University recently celebrated reaching the $1 billion milestone in its Achieve! capital campaign. The university reached its target about a year and a half early, but Chancellor James Oblinger says that the fund-raising effort isn't over yet. more
Departmental Research Grants, Gifts, and Support
Weston Solutions has donated $5,000 to the department to support our Sr. Design Center Program.
Mrs. Ling Tai has given a $2,000 gift to the Dr KC Tai Memorial Endowment, which has grown in value to well over $40,000. This special endowment was created to honor the legacy of her late husband, software engineering professor, Dr. KC Tai.
Dr. Annie Antón has donated $500 to support ThePrivacyPlace.org.

CSC Faculty / Staff News
Ron Hartis, director of operations, recently received the Certificate in Project Management from the Industrial Extension Service and the Lewis Institute. He plans to join the PMI (Project Management Institute) and take the PMP (Project Management Professional) exam in 2007.
105 Receive Degrees in Fall 2006 Diploma Ceremony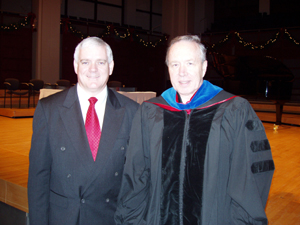 On December 20, 2006, approximately 1,000 relatives and guests watched in pride as 105 degrees were conferred by the department during our Fall Diploma Ceremony held in the beautiful Meymandi Concert Hall at the Progress Energy Center for Performing Arts in downtown Raleigh. more
Centennial Campus Adding Several Amenities
Even though Centennial Campus has an occupancy rate of 99 percent and tenants like MeadWestVaco are planning major expansions, more amenities are needed to attract tenants on a long-term basis, Bob Fraser, associate vice chancellor for development on Centennial Campus, told the Staff Senate recently. In addition to an exercise course and the new Dorothy and Roy Park Alumni Center, which both opened recently, several new amenities are planned including a fishing pier on Lake Raleigh, an expanded greenway, completion of Main Campus Drive to the Friday Institute, and start of construction on the golf course. more
Bonto-Kane to Participate in Student Bridges Leadership Program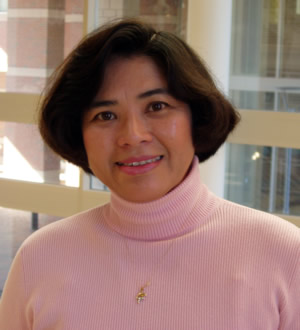 Marivic A. Bonto-Kane, a PhD. Candidate in Computer Science, was chosen as one of only 13 women to participate in the Student Bridges "Women in Leadership Development" program for spring 2007, offered by the NCSU Women's Center. more
Students Innovate, Create with EEP
The Engineering Entrepreneurship Program offers students an opportunity to develop and market their creations. more
CSC "Jobs List"
If you are a CSC student and would like to receive an automatic email notice whenever new postings are activated on the CSC online jobs board, you are invited to subscribe to the cscjobs list. We may also use the list to announce career fairs, company campus visits & info sessions, and other career related events and activities. This is an "opt-in" list, so you must subscribe to receive the notices. Students can subscribe via the Subscribe Interface at http://lists.ncsu.edu/cgi-bin/mj_wwwusr (type cscjobs in the Mailing List box and press Search) or by sending an email to: mj2@lists.ncsu.edu (leave Subject Line blank), in the body of the message type subscribe cscjobs, and then send your message. For more information about subscribing please check http://lists.ncsu.edu/.
EBII Student Bench Sponsorships Needed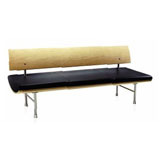 If you have had the chance to visit our EBII facility since it opened last fall, you have seen first-hand what a fantastic teaching and research building it is. However, a little known fact is that numerous items were cut and/or delayed during the construction phase due to higher than expected energy and construction costs. One of the more noticeable items cut from the EBII budget was that of furniture for our commons areas. Tables, chairs, benches, and other furniture are essential for creating spaces where students can collaborate, work and study between classes. The CoE facilities group is in the process of ordering some tables and furniture for our atrium, but budget constraints still will not allow for the purchase of adequate benches to be placed down the main hallways where classrooms are located. To help expedite this, bench sponsorships are being made available to alumni, friends, and corporate partners for $2,000. Each sponsor will be recognized with a permanent nameplate attached to the seat back. The benches are industrial quality and expected to last for many generations.
---