CSC eNewsletter
Welcome to the online edition of CSC eNews, a monthly electronic newsletter for alumni and friends of the Department of Computer Science at NC State University.
If you are a CSC alum and wish to be added to the email distribution list, click here. Corporate or individual friends of the department may be added to our distribution list by sending an email request to Ken Tate, Director of Development & External Relations for the NCSU Department of Computer Science.

---
April 30, 2007
Department Dedicates Donald Martin Computer Science Teaching Lab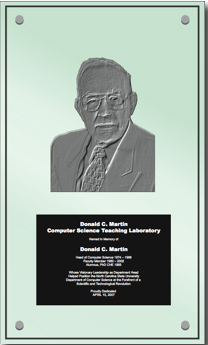 On Friday, April 13th, the NC State Department of Computer Science officially dedicated EBII Room 2336 as the Donald Martin Computer Science Teaching Lab, in memory of former department head, Dr. Donald C. Martin. This is the first space named for an individual within the computer science wing of EB II. more
Departmental Research Grants, Gifts, and Support
Jim & Barbara Faulkner have made a donation of $2,000 to help the department provide accelerated cash awards to students this coming fall associated with both the Doris & Don Martin CSC Scholarship Endowment and the Joyce Hatch Scholarship Endowment.
Alumna, Jo Goodson-Tiedeman has made a generous donation of $7,500 to the Diversity in Computer Science Endowment in honor of the department's Director of Development and External Relations, Ken Tate.
Thanks to alumni, Jesse Fearrington and Mark Wyatt for serving as co-hosts for the Charlotte "Meet-the-Dean" event on April 24th, and to Suzanne Gordon and Steve Kuekes for serving as a co-host for the Raleigh event on May 1st.
Thanks to all our corporate sponsors of Senior Design Center student projects this spring including Concert Technology, Cisco Systems, Duke Energy, EMC, Fujitsu, IBM, iCardiogram.com, I-cubed, Insight Racing, MCNC, Network Appliance, Nortel Networks / Weston Solutions, Northrop Grumman, Progress Energy, SAS, Sun Microsystems, and Tekelec.
CSC Faculty / Staff News
Congratulations to Dr. Frank Mueller and his doctoral advisee, Jaydeep Marathe, as their project entitled "Hardware Profile-Guided Automatic Page Placement for ccNUMA Systems", garnered the April 2007 Gelato (IP)2 Award, Innovative Project on Itanium Processors. more
Congratulations to Trey Murdoch, an Operations and Systems Analyst for the department, as he recently attained his official certification as a Microsoft Certified Desktop Support Technician.
BBC to Feature NC State-Sponsored "Lone Wolf" Autonomous Vehicle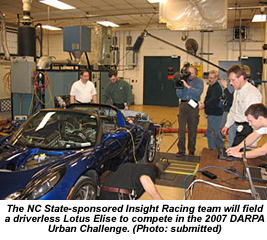 While preparing for the Defense Advanced Research Projects Agency (DARPA) Urban Challenge next November, the Insight Racing team's driverless Lotus Elise is heading for TV screens worldwide with its latest filming by the British Broadcasting Corporation (BBC). Dubbed the Lone Wolf, the Lotus sports car, complete with sensors and on-board computers, has been selected to demonstrate how automotive technology will affect our lives in the BBC Show "The Future." Filming of the automotive segment was completed recently at North Carolina State University's Centennial Campus. more
NC State Launches Institute for Advanced Analytics; Rappa Named Director
A new institute at NC State University will spearhead graduate education in the emerging field of analytics. The Institute for Advanced Analytics will oversee the Master of Science in Analytics (MSA), a graduate program approved in February that is set to admit its first class of 40 students in July. The MSA is an intensive 10-month professional degree that focuses exclusively on the tools, methods and applications of data analytics. The degree consists of an interdisciplinary curriculum that involves the expertise of 30 faculty members from seven colleges across the university. The entirely new curriculum is being developed with the help of a major gift from SAS Institute. Dr. Michael Rappa, who proposed the institute in April 2006, has been named its founding director. more
List Receives Deborah S. Moore Service Award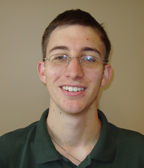 Congratulations to Phil List, a senior in Computer Science, who was recently named as co-recipient of the 2006-07 Deborah S. Moore Student Volunteer of the Year Award. List serves and participates in a variety of leadership and service roles such as Students for Life, Catholic Campus Ministries, The College of Engineering Mentoring Program, and Avent West Children's Mentoring, and Habitat for Humanity. He has also been to Louisiana twice in the past year to help with the ongoing Hurricane Katrina relief efforts . more
Heckman and Breaux Win IBM Ph.D. Fellowship Awards
Congratulations to CSC graduate students Sarah Smith Heckman and Travis Breaux, each of whom were recently awarded the prestigious 2007 IBM Ph.D. Fellowship Award. Each award is valued at approximately $23,332. This is the second consecutive year that Heckman and Breaux have been honored by winning these awards. Heckman is advised by Dr. Laurie Williams and Breaux by Dr. Annie Antón. more
Boyer and Jones Win Prestigious NSF Graduate Research Fellowship Award
Congratulations to Kristy Elizabeth Boyer, a doctorial student in computer science advised by Dr. Mladen Vouk, and Laurie Jones, a research scientist working with Dr. Annie I. Antón. They are both recipients of the National Science Foundation (NSF) Graduate Research Fellowship Award. more
Nine TAs Recognized at UGSA Ceremony
The NC State University Department of Computer Science wishes to congratulate nine of its most outstanding Teaching Assistants (TAs), who have been selected for Outstanding Graduate Teaching Assistant Awards by the University Graduate Student Association (UGSA). more
Hayward Selected to Participate in CRA-DMP Program
Computer Science coed, Lauren Hayward, has been chosen to participate in the CRA's Distributed Mentor Project (DMP) this summer. more
Students Qualify for Microsoft 'Imagine Cup' Regionals
Congratulations to six NCSU students, who have qualified to be invited to Microsoft's 'Imagine Cup' regional competition. Students excelling in the first round of the competition include Derrick Marcey, Michael Davis, Ryan Snyder, Joshua Singley, Ryan Gerleve, and Amanda Macik. At the end of the first round, NC State ranked thirteenth out of over 140 schools. more
Raleigh Chosen as #1 Metro Area for Business & Careers
Anchored by a strong Southeast showing, Raleigh has taken Forbes.com's #1 ranking as a metro area for business and careers. Durham also made the list placing #7. more
IBM's Horn to Speak at Spring 2007 Diploma Ceremony
Our spring diploma ceremony will be held on Saturday, May 12th at 1:30 pm in the main sanctuary at Providence Baptist Church, located at 6339 Glenwood Avenue in Raleigh (driving directions). Sue Horn, VP of the IBM Software Group and RTP Site Executive with IBM, will provide the keynote address. more
CSC "Jobs List"
If you are a CSC student and would like to receive an automatic email notice whenever new postings are activated on the CSC online jobs board, you are invited to subscribe to the cscjobs list. We may also use the list to announce career fairs, company campus visits & info sessions, and other career related events and activities. This is an "opt-in" list, so you must subscribe to receive the notices. Students can subscribe via the Subscribe Interface at http://lists.ncsu.edu/cgi-bin/mj_wwwusr (type cscjobs in the Mailing List box and press Search) or by sending an email to: mj2@lists.ncsu.edu (leave Subject Line blank), in the body of the message type subscribe cscjobs, and then send your message. For more information about subscribing please check http://lists.ncsu.edu/.
---