Computer Science eNewsletter
Bitzer inducted into National Inventors Hall of Fame

We are pleased to announce that Dr. Donald L. Bitzer, who helped develop the technology behind the plasma-screen televisions that sit in millions of living rooms, has been inducted into the National Inventors Hall of Fame. The Hall of Fame, which was founded in 1973, honors inventors whose innovations and entrepreneurial endeavors have changed the world. Its membership includes Thomas Edison, Wilbur and Orville Wright, Alexander Graham Bell and Steve Jobs. Bitzer is Distinguished University Research Professor of Computer Science at North Carolina State University. more

Five Extraordinary Women Become SHE++ Mentors
Five NC State Computer Science students and alumnae have been selected as mentors/role models in SHE++, a Stanford University initiative whose goal is to foster a community to inspire a new generation of female programmers. The purpose of the program is to encourage girls to explore computer science, to demystify the computer science major to high school and middle school students and to bridge connections between young leaders, and inspire students. The group's initiatives include building a tool to connect technically-inclined high school and middle school girls with upper level female college students and recent graduates in computer science via online video conversations two to three times a month. more
Fornaro Receives IEEE Undergraduate Teaching Award
Congratulations to Dr. Robert Fornaro, professor of computer science at NC State, who has been selected to receive the 2013 Computer Science and Engineering Undergraduate Teaching Award from the Institute of Electrical and Electronics Engineers (IEEE) Computer Society. He was selected "for outstanding teaching and mentoring of undergraduate students in award-winning engineering projects." more
Four From CSC Receive NSF Graduate Research Fellowships
The NC State Computer Science Department is pleased to announce that two undergraduate students and two PhD students have been chosen to receive prestigious and highly competitive National Science Foundation (NSF) Graduate Research Fellowships. The Department's winners include: undergraduates Joseph Arthur and Neil Shah, and PhD students Brittany Johnson and Fernando Rodriguez. Fellows benefit from three years of funding (approximately $122,500) for research-focused degrees in science, technology, engineering and mathematics fields. more
Whitmire Receives Goldwater Scholarship
Congratulations to Eric Whitmire, a junior at NC State majoring in Computer Science and Biomedical Engineering, on receiving a Barry Goldwater Scholarship. Whitmire is a Park Scholar and a member of the University Scholars Program. He has engaged in undergraduate research with Drs. Donald Bitzer and Emmanuel Awumey, and has continued his research activities under the direction of Dr. Alper Bozkurt. more
Domínguez Wins 2013 NC State UGSA Outstanding TA Award

Ignacio Domínguez, PhD student and teaching assistant (TA) for the Computer Science Senior Design Course (CSC 492), was recently awarded a 2013 NC State University Graduate Student Association (UGSA) Outstanding TA Award. Only 15 TAs (out of 79 nominees campus-wide) were recognized with this award at an event on Monday, March 18, 2013. more
Students Make Strong Showing in Cyber Security Competitions
Several NC State Computer Science students finished strong in two cyber security competitions. One NC State team advanced to the regional finals of the 2013 National CyberWatch Center Mid-Atlantic Collegiate Cyber Defense Competition on April 10-12. more
Restaurants Coming to Centennial
"On the Oval Culinary Creations"—located in the new Wolf Ridge Housing Complex—will feature four micro-restaurants and a diner with early-morning and late-night access. Conveniently located near the College of Engineering, the College of Textiles and new Hunt Library, "On the Oval" will provide much-needed food service options on Centennial Campus. More than 400 guests will be able to enjoy the indoor and outdoor seating areas, making it a natural location for students, faculty, staff, corporate partners and campus visitors to relax and eat. more
Older Is Wiser: Study Shows Software Developers' Skills Improve Over Time

There is a perception in some tech circles that older programmers aren't able to keep pace with rapidly changing technology, and that they are discriminated against in the software field. But a new study by Dr. Emerson Murphy-Hill indicates that the knowledge and skills of programmers actually improve over time – and that older programmers know as much (or more) than their younger peers when it comes to recent software platforms. more
Big Savings on Renovation Project
When demolishing the interior of a 17,000-square-foot office in preparation for upcoming renovation, why throw away building material that can be reused or recycled? At Corporate Research I on Centennial Campus, the university's Repair and Renovation Services turned its latest and largest demolition project into a model for more sustainable waste diversion. more
Departmental Gifts & Research
Allied Telesis Labs has donated $5,000 in support of the Sr. Design Center.
Bronto Software has donated $5,000 in support of the Sr. Design Center.
Lexmark has donated $5,000 in support of the Sr. Design Center.
NVIDIA has donated four fully-loaded high-speed game development PCs to the department for use in the game development lab. The units are valued at almost $7,000.
Fidelity Investments has donated $2,500 in support of the Women in Computer Science student organization..
Dr. James Lester has been awarded $46,970 by McGill University/Social Sciences and Humanities Research Council of Canada to support his research proposal entitled "Learning Environments Across Disciplines (LEADS): Supporting Technology-Rich Learning Across Disciplines: Affect Generation and Regulation During Co-Regulated Learning in Game-Based Learning Environments." more
CSC Wolf Bytes
The department welcomes Zelda Tuazama who will support the efforts of our Undergraduate Advising Office. She comes to us with over 8 years of experience from NC State's Registration and Records group.
The department is pleased to announce that Dr. Min Chi will be joining our department starting this fall as an Assistant Professor in the Digital Transformation of Education cluster (part of the Chancellor's Faculty Excellence Program). Her specialty is Machine Learning. bio
A presentation by Dr. Tao Xie was accepted by the Google Test Automation Conference (GTAC) held on April 23-24 in New York. more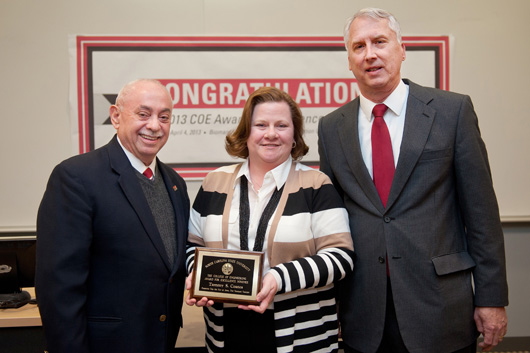 Congratulations to Tammy Coates (above with Dean Louie Martin-Vega and John Gilligan), public communications specialist, was recently recognized as the department's nominee for the College of Engineering 2013 Awards for Excellence. more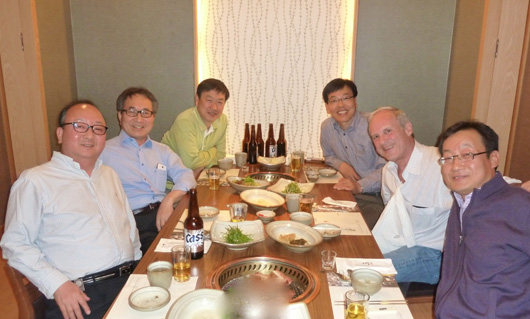 During a recent lecture visit to Seoul, South Korea, Dr. Harry Perros had a chance to dine with several of his former PhD students. Pictured above (left to right) are: Kijoon Chae, Professor of Computer Science, Ewha Womens University, Kyong-Pyo Jun, Vice-President, ETRI, Sugwon Hong, Professor, Myongji University, Bongtae Kim, Vice President, ETRI, Dr. Perros, Doo Yeong Park, Professor and Dean, Pai Chai University!
Follow the Department on Facebook, LinkedIn, and Twitter!

Alumni, students, faculty, staff, and corporate partners of the NC State Department of Computer Science, interested in networking to foster collaboration, entrepreneurship, partnerships, career development and professional growth are invited to follow us on Facebook, LinkedIn, and Twitter.
Personalized Job Search Agent in ePack
If you are a CSC student or recent graduate (within 12 months post-graduation) and would like to receive email notifications when new jobs are posted on ePack matching your profile, you can set up your own customized job search agent to receive just the postings you desire (intern vs. full time, etc). For a short video tutorial on how to create your own personalized job agent, click here. Experienced alumni looking for career assistance are encouraged to take advantage of NC State's Alumni Career Service.