Computer Science eNewsletter
Below is department related news, gathered from a variety of sources across campus, provided monthly for alumni, students, and friends of the Department of Computer Science at NC State University.
If you are a CSC alum and wish to be added to the email distribution list, click here. Corporate or individual friends of the department may be added to our distribution list by sending an email request to Ken Tate, Director of Development & External Relations for the NCSU Department of Computer Science.

---
April 30, 2009
New Human Movement Model Can Aid In Studying Epidemic Outbreaks, Public Planning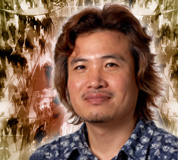 Dr. Injong Rhee, associate professor of computer science, is developing a new statistical model that simulates human mobility patterns, having a host of potential uses ranging from land use planning to public health studies of disease outbreak. more
Outstanding Computer Science Seniors Recognized
Each year, the NC State College of Engineering recognizes students for their outstanding performance beyond academic achievement with Outstanding Senior Awards. Computer Science students Joseph Warren France, Joseph Talmadge Patrick, and William Russell Tatum were recognized during an awards ceremony on April 28th. more
Puryear to Speak at Spring 2009 Diploma Ceremony on May 9th
The NC State University Computer Science Department will hold its spring diploma ceremony on Saturday, May 9 at 1:30 p.m. in the main sanctuary at Providence Baptist Church, located at 6339 Glenwood Avenue, Raleigh. Alumnus and IT expert, Rudy Puryear (BS '74) will provide the keynote address. more
Bridge Viz: Interdepartmental Bridge Engineering Project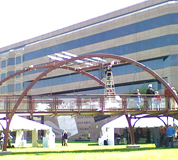 Students from a variety of engineering disciplines at NC State work together to build a pedestrian bridge as part of the 2009 Engineering Day for North Carolina. Computer Science team help provide a network of sensors to gather crucial data. more
Outstanding Graduate Teaching Assistants Recognized
The NC State University Department of Computer Science wishes to congratulate 12 of its most outstanding Teaching Assistants (TAs) who have been selected for Outstanding Graduate Teaching Assistant Awards by the University Graduate Student Association (UGSA), including two - Amit Awekar and Brian Dellinger - honored with the NCSU Top 10 TA Award. more
Galloway to Attend 2009 Google Summer Institute
Kamar Galloway, a freshman in the NC State computer science department, has been selected to attend the 2009 Google Computer Science Summer Institute (CSSI). more
Rodman Elected to American Academy of Forensic Sciences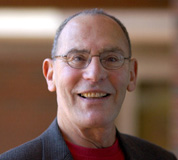 Dr. Robert D. Rodman, professor of computer science at NC State University, has been elected to the American Academy of Forensic Sciences (AAFS) as an associate member in the Engineering Sciences section. more
Apilli Selected to Participate in Prestigious Off-Campus Programs
Bellanov Apilli, a junior in the department of computer science at NC State University, has been selected to participate in the Distributed Research Experiences for Undergraduates (DREU) program this summer. more
Acharya Excels on the Racquetball Court
Mithun Acharya, a Ph.D. student in the NC State Department of Computer Science, won the inter-university UNC Club Bash, Division B, racquetball tournament held at UNC on April 4. NC State went on to win the overall championship. more
Fighting TB As Easy As 1-2-3
It's one of the world's most intractable medical problems, spreading at the alarming rate of one new infection every four seconds. The disease is tuberculosis, and it has now infected up to one-third of the people on Earth, primarily in the developing world, where diagnostic and treatment tools are scarce. Those numbers may change, thanks to the pioneering work of three NC State undergraduates. more
NC State Study Shows How To Deflect Asteroids and Save The Earth
You may want to thank David French in advance. Because, in the event that a comet or asteroid comes hurtling toward Earth, he may be the guy responsible for saving the entire planet. more
Bell Tower Project Takes Off
The Memorial Bell Tower may be the University's most recognizable visual feature and serves as the landmark of the official seal, but it does not actually have any bells in it. However, there are current efforts to raise money towards installing a 54 bell carillon inside the tower. more
Departmental Research Grants, Gifts, and Support
Cisco Systems has donated $6,550 to the department in support of the ePartners Program and numerous student organization led programs and initiatives.
Fujitsu Transactions Solutions and TransLoc, Inc. have each donated $5,000 to the department in support of the Senior Design Center program.
ABB has donated $5,000 to Dr. Laurie Williams in support of the 2009 International Symposium on Empirical Software Engineering and Measurement (ESEM), for which she serves as the general chair.
Spark Plug Games and Epic Games have donated $2,500 each to the department in support of the YE Game Development Showcase and the ePartners Program.
Lockheed Martin has donated $1,500 to the department in support of the ACM Regional Programming Contest Team(s).
Super ePartner, SAS Institute has donated $2,000 to Dr. Steffen Heber in support of the Symposium on Life Science Education.
Alumnus, Steven Jones (B.S. '91) has donated several pieces of vintage and unique computer equipment to the department including an Apple IIe, Commodore 64, NeXTstation, and a One Laptop per Child (OLPC) laptop. The equipment will be integrated into a permanent display housed within EB2.
Chang Shik Wang has donated $12,000 to support the work of Dr. Injong Rhee.
Dr. Peng Ning, associate professor of computer science, was been awarded a prestigious IBM Open Collaboration Faculty Award valued at $100,000. more
Thanks to the growing number of alumni and friends who continue to make one time and multi-year contributions to help establish the Carol Miller Student Leadership Endowment to honor long-time lecturer Carol Miller who plans to retire at the end of the 2008-09 academic year. Alumnus Jay Strickland has made a very generous matching gift pledge, committing to match all other alumni contributions up to $25,000 to help establish the endowment. Total pledges to the endowment now approach $35,000 and actual gifts total almost $12,000 to date. more
CSC Faculty / Staff News
Congratulations to Dr. George Ruskas, professor of computer science, for having his book entitled Internet Tiered Services: Theory, Economics, and Quality of Service published by Springer. more
We are very happy to welcome Jeremy Meeler, Suzanne Balik, and Sarah Heckman to the department. Meeler joins our IT group where he will serve as an operations and systems analyst (Windows administrator). Balik will join our department as a lecturer, and Heckman will become our 1st Teaching Assistant Professor; both start in August.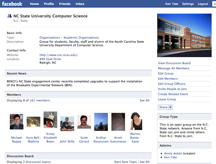 Department Pages on Facebook and LinkedIn
Alumni, students, faculty, staff, and corporate partners of the NC State Department of Computer Science, interested in networking to foster collaboration, entrepreneurship, partnerships, career development and professional growth are invited to join the department's pages on Facebook and LinkedIn.
CSC "Jobs List"
If you are a CSC student or alum and would like to receive an automatic email notice whenever new postings are activated on the CSC online jobs board, you are invited to subscribe to the cscjobs list. We may also use the list to announce career fairs, company campus visits & info sessions, and other career related events and activities. This is an "opt-in" list, so you must subscribe to receive the notices. Students can subscribe via the Subscribe Interface at http://lists.ncsu.edu/cgi-bin/mj_wwwusr (type cscjobs in the Mailing List box and press Search) or by sending an email to: mj2@lists.ncsu.edu (leave Subject Line blank), in the body of the message type subscribe cscjobs, and then send your message. For more information about subscribing please check http://lists.ncsu.edu/.