Collins Named CoE DEA Award Winner (10/30/2003)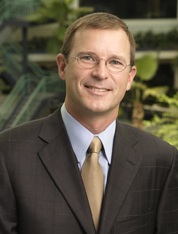 Congratulations to CSC alumnus, Keith Collins (BS '82), for being selected as one of three winners of the Distinguished Engineering Alumnus of the Year awards presented this month by the College of Engineering. The award recognizes our most distinguished alumni for their outstanding professional contributions and their ongoing support for the university. Collins has been a key player in the phenomenal growth and success of SAS Institute, where he currently serves as Senior Vice President and Chief Technology Officer. SAS is the world's largest privately owned software company. Despite the demands of a hectic travel schedule and his executive role, he has also maintained a strong and lasting relationship with the university on a number of fronts. He has served on the NC State University Engineering Foundation board of directors, hosted student recruiting events, and has served as a guest speaker at departmental events and classes. He is a founding member of the Computer Science Department's Strategic Advisory Board, and currently serves as its chairperson. He also played a pivotal role in the establishment of the SAS Chair in Computer Science. For the complete news release see, http://www.ncsu.edu/news/press_releases/03_10/307.htm.
Groundbreaking Held for new CSC /ECE Facility (10/24/2003)

On a picture perfect day, the official groundbreaking ceremony for the new Computer Science / Electrical & Computer Engineering Building on Centennial Campus was held on Friday, October 24, 2003, at 3:00 pm, on the upper level of the Red Hat parking deck overlooking the construction site. Approximately 300 alumni, students, faculty, staff, and corporate VIPs attended this historic event. A reception followed inside the Red Hat facility, showcasing the new building's design and spotlighting numerous departmental research highlights and success stories. Special thanks to Red Hat for the use of their facilities and to Network Appliance for their generous financial sponsorship of this event. For more information, please see http://www.ncsu.edu/BulletinOnline/10_03/engineeringII.htm.
Departmental Research Grants, Gifts, and Support (10/31/2003)
Cisco Systems has renewed its membership as a Super ePartner, providing the department with an unrestricted $25,000 contribution.
Centennial Campus based Red Hat Inc. recently donated $12,500 in unrestricted funding to the department, extending their ePartners membership through the 2003-04 academic year.
Corporate Friend Microsoft Corp. has provided the department with MS Office Mac Pro 10.0 software valued at approximately $1,500.
Dr. Frank Mueller's proposal titled "ITR: Collaborative Research: SPARTA: Static Parametric Timing Analysis to Support Dynamic Decisions in Embedded Systems" has been funded by the National Science Foundation for $130,000. The project will run from September 2003 through August 2006. Embedded systems with temporal constraints rely on timely scheduling and a prior knowledge of worst-case execution times. Static timing analysis derives safe bounds of WCETs but its applicability has been limited to hard real-time systems and small code snippets. Dr. Mueller's project addresses these limitations of timing analysis for embedded systems. It contributes a novel approach to program analysis through parametric techniques of static timing analysis and provides innovative methods for exploiting them. The broader impact is to increasingly expose students to embedded systems and to provide essential temporal assurances, which are a prerequisite for applying the results to hard and soft real-time scheduling for embedded systems.
Drs. Doug Reeves' and Peng Ning's proposal titled "Tracing Attacks Through Non-Cooperative Networks and Stepping Stones with Timing-Based Watermarking" has been funded for a 5-month period for $119,310 by the ARDA (Advanced Research and Development Agency), a funding arm of the intelligence community. If the ARDA exercises all of its options, the total funding could grow to over $1M. Attack attribution is the attempt to identify the source of an attack, so that appropriate defenses can be put in place, and so the attacker can be prosecuted or quarantined. Many approaches are possible and have been tried. Most are not effective across proxies, gateways, and stepping stones (intermediate hosts used for staging attacks). Drs. Reeves and Ning propose an approach based on packet timing characteristics. Their method embeds in packet timing a subtle watermark for this purpose. The watermark uses no bandwidth, can be made almost arbitrarily robust, and is difficult to detect without knowledge of the parameters of the watermark embedding scheme. The project will also investigate implementation and deployment issues .
According to Ginger McGlamery, our Contracts and Grants Manager, the department has received ten new sponsored research awards since the start of the fiscal year on July 1st! These awards total $3,056,007 in committed funding from external sponsoring agencies, bringing our total current research funding to approximately $14 Million.
Faculty/Staff News (10/31/2003)
Marshall Brain recently announced that he would be stepping down as Assistant to the Department Head at the end of October, to focus more time on his "HowStuffWorks" business commitments. The good news is that he will continue to work with the Department as a volunteer. Marshall is also working with our freshman Parks Scholar, Jordan O'Mara, on developing web pages to garner the interest of prospective undergraduate students.
Effective November 1st, Ron Hartis assumes a new role within the department as Director of Operations. In this role, created as a result of David Thuente's migration to the role of Director of Graduate Programs and Marshall Brain's departure, Ron will provide mission critical operational support for the department such as working with the faculty client committee to oversee the move to Centennial Campus.
Congratulations to our webmaster and systems programmer extraordinaire, Carlos Benavente, for being selected as a College of Engineering Pride of the Wolfpack Award winner in October.
Special thanks to Dr. Robert Fornaro for his outstanding leadership and service as Director of Undergraduate Programs for the department for the past 6 & 1/2 years. Bob recently announced that he will step down from that position effective January 1, 2004 to concentrate on the Senior Design Center and his research in the use of wireless motes. Bob's outstanding leadership and commitment to our students, our department and our University during this period are greatly appreciated.
Congratulations to Dr. Peter Wurman and three of his PhD students for having their paper titled "An Algorithm for Computing the Outcome of Combinatorial Auctions with Proxy Bidding" receive a best paper award at the International Conference on Electronic Commerce (ICEC-03) held recently in Pittsburgh. The paper was written by Dr. Wurman, Gangshu Cai, Jie Zhong, and Ashish Sureka.
Congratulations to Dr. Douglas Reeves, who has received the Professional Engineer of the Year Award as an "outstanding alumnus" of the Computer Engineering and Computer Science Department of the Speed Scientific School at the University of Louisville.
Dr. Peng Ning's book (co-authored with Sushil Jajodia and X. Sean Wang) entitled "Intrusion Detection in Distributed Systems: An Abstraction-Based Approach" has been published by Kluwer Academic Publishers in the Advances in Information Security Series
SAS Sponsors New Communications Initiative (9/30/2003)

Be on the lookout for major changes to the ePartners Update in the next few months. Thanks to a $5,000 grant provided by SAS Institute's Publication Marketing Group, our departmental enewsletter will migrate to a new HTML format allowing for a more dynamic and powerful display of content. In addition, we will expand our distribution list to include all CSC alumni. The department will continue to publish Connected, our a bi-annual paper newsletter, however this increased focus on providing more timely news via email will allow us to be more strategic in the news features provided in print. We trust that you will see great value in these changes. As always, your comments and suggestions are welcome.
Shelton Leadership Forum - Nov. 13 & 14 (9/30/2003)

Make your plans to attend the General Henry Hugh Shelton Leadership Forum to be held Nov. 13 & 14 at the McKimmon Conference & Training Center on the campus of NC State University. Scheduled keynote presenters include General Hugh Shelton, Dr. G. Thomas Houlihan, and Dr. Stephen Covey. For more information or to register for this special event, click here.

Priority 'Naming Rights' for ePartners (7/25/2003)

The official groundbreaking ceremony for our new 100,000 sq. ft, $41M state-of-the-art teaching and research facility on Centennial Campus is tentatively planned for October 24th. At the same time, we plan to launch the official Naming Rights Campaign. While the details of this campaign are still being finalized, we expect naming opportunities to range from $25,000 to over $1M. Premiere naming spaces include an expansive atrium and a series of terraces designed to host events of all sizes, as well as labs, classrooms, conference rooms, and faculty offices. Our ePartners will have priority naming rights opportunities. More information will be released officially on this campaign in the coming months, but if you have questions or would like more information, please contact Ken Tate at 919-513-4292 or kmtate2@ncsu.edu.
University Names New Diversity Leader (10/31/2003)
Dr. Jose Picart joined the NCSU faculty on October 1st as vice provost for diversity and African-American affairs. He brings with him an impressive list of achievements and a demonstrated commitment to enhancing the academic experience of all students through diversity programs and partnerships. Picart, a retired colonel in the U.S. Army, comes to NCSU from the United States Military Academy (USMA) at West Point, where he was director of psychology studies and co-chaired the USMA Diversity Working Group. He was chosen for the post from a field of more than 150 applicants in a national search. You also can read more about him at www.ncsu.edu/news/press_releases/03_09/275.htm.
Major Gift to Launch Construction of Alumni Center (10/31/2003)
On Sept. 29, Chancellor Marye Anne Fox announced that Dorothy Dent Park of Ithaca, N.Y., has given $5 million to the NC State Alumni Association's Campaign for Excellence. The gift will help fund the new Alumni Center, an integral part of the Alumni Association's plans for the future. In recognition of Park's gift, the new center will be named The Dorothy and Roy Park Alumni Center. Dorothy Park is a native of Raleigh, attended Peace College and graduated from Meredith College. The widow of Roy H. Park '31, one of NC State's most illustrious alumni, she is the chair of the Park Foundation, founded by her late husband. "The Park Alumni Center will be among the nation's finest alumni centers, offering elegance, warmth, accessibility and all the conveniences of modern technology," says Chancellor Fox. "It will be a fitting tribute to Dorothy and Roy's vision, and of their enduring support and love for NC State." To read more about the Alumni Center gift, visit http://www.cgibin.ncsu.edu/alumni-bin/article.pl?a=200309291.

Back to Main ePartners News Page.